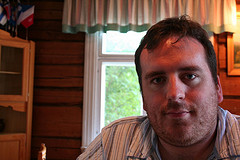 On weekdays I'm a Technical Lead at Comparethemarket.com, having previously been a Solution Architect at Nokia & Nokia Siemens Networks, creating creative software solutions for mobile operators around the world.
In my spare time I'm an avid new technology fan, and constantly strive to find innovative uses for the new gadgets I manage to get my hands on. Most recently I've been investigating Mobile Codes, RFID and Home automation (mainly Z-Wave). With a keen eye for usability I'm attempting to create some cost-effective, DIY technology solutions which would rival even high-end retail products. The software I develop is usually released as Open Source.
I have a Finnish geek partner, so have begun the difficult task of learning Finnish.